Getting ripped and carving out a sculpted beach body in your 50's is an incredibly rewarding experience. What you gain from the process of transforming your physique over the age of 50 is something that you would have never fully appreciated in your youth.
After all, guys with ripped abs in their 20's are a dime a dozen. But when you're strolling along the beach with a chiseled mid-section in your 50's you stand out in the crowd.
The sense of pride, confidence, and zest for life that comes from your personal achievement is rewarding beyond measure.
But it pales in comparison to the deep sense of purpose and meaning that hits you right at the core of your being when you hear that your personal transformation inspired another bro over 50 to take command of his physique, lifestyle, and well-being.
All three of my workout partners Rick, Mike, and Paul are over the age of 50 and not a day goes by where I don't hear a fellow gym member tell them that their transformation has inspired them.
The metamorphosis that takes place with an individual who's going through the fat loss process to a role model who's actions are making a positive impact on the lives around you is a pretty magical experience. I feel extremely grateful to have witnessed this experience first hand.
From my group of workout partners, Mike (54 years young) has made the most recent physique transformation. His progress video fires me up every time I watch it. I'm sure it will do the same for you.
Especially considering that he achieved his goal without doing any cardio, without taking a single supplement, and all while enjoying his favorite foods.
Click play and prepare yourself for a heavy dose of inspiration…
During this 12 week body transformation, Mike pulverized the last 30 pounds of fat from his physique.
But what's even more impressive is that he stripped away over 30 pounds of fat during the previous year when we began training together and he held it there for several months. He was in good shape, but developed a desire to be in the absolute best shape of his life, which sparked this dramatic transformation.
Not only has Mike inspired the members at our gym, but he's set an incredible example for his three daughters and grandchildren.
What I love most about Mike's transformation journey is the new found fascination and appreciation he has for his physique. He's developed a keen sense of awareness with the subtle improvements to his body.
It's the little things that excite him. Whether it's moving faster during Karate practice or having more energy to play for hours on end with his young grandchildren, he now feels like he's living life to the fullest. And that's what a body transformation should be all about.
From our group of 'experienced' lifters, I've been training with Rick (54 years young) the longest. His initial goal 6 years ago when we first started working out together was to get in the best shape of his life for his 50th birthday and damn did he ever blow that goal out of the water…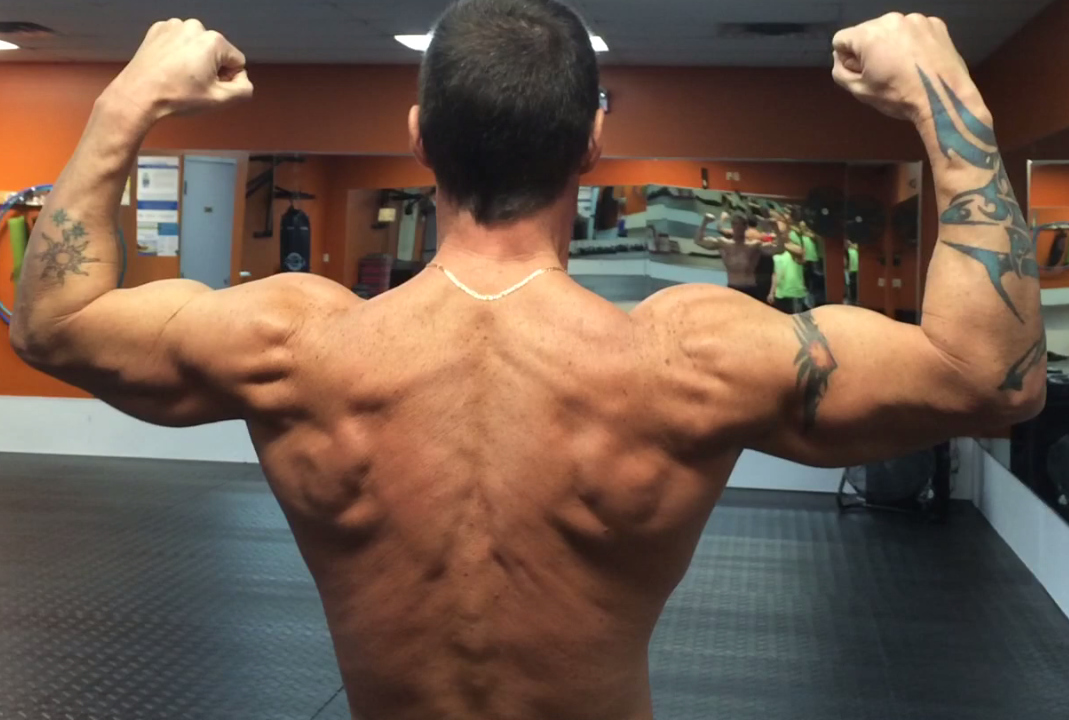 The best part is that he's maintained his lean physique and built upon it since turning 50.
Because he's stayed lean for the past 4 years, most people assume that he's been in great shape his entire life. That he's some sort of genetic freak.
Well, that couldn't be further from the truth. Up until his mid 40's Rick was, let's just say… stocky 😉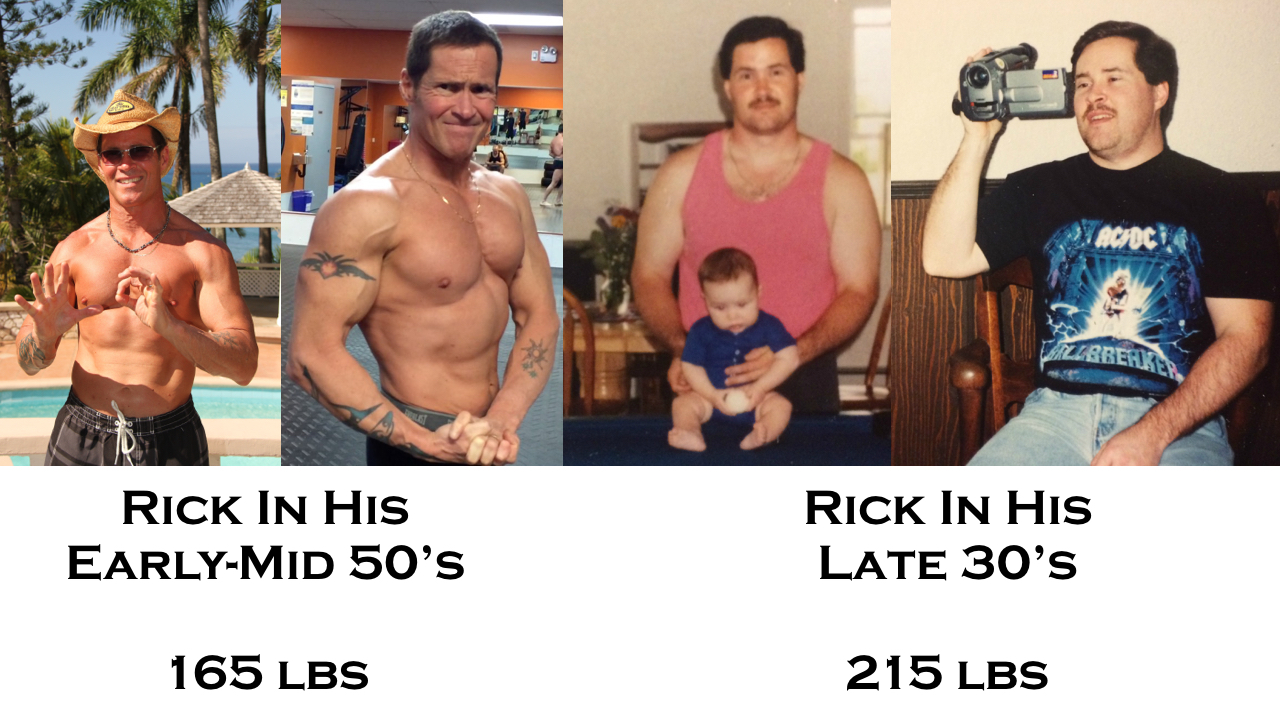 You can't even tell they are the same two people in his before and after photos. That's insane!
Rick has been working out since his teenage years and built up some nice muscle mass, but that muscle was always covered with a layer of fat.
Like Mike, he's developed a super keen sense of awareness with the subtle changes to his physique. It's a blast recording comparison videos each year and spotting the added muscle he's slabbed onto his body while staying lean year round.
He's the most dedicated bro I've ever seen in the gym and totally keeps me on my 'A' game.
Click play to see him in action while adding more fuel to that fire lit under your butt…
Both Rick and Mike have similar builds. They are 5′ 10″ tall and weighing in around the low 160's. Most people guess their weight to be around the 180 pound mark because of the muscle mass they are carrying.
And now for the youngest member of the over 50 club in our training group, Paul (53 years young). Paul has made an incredible transformation.
I still can't get over how far he's come along…

Paul is a prime example of a complete lifestyle change. Witnessing his physical transformation has been amazing! But his mindset transformation has been out of this world. He oozes positivity and I totally feed off it.
Now Paul is ready to take his physique to the next level and go from good to great. I'm beyond stoked to share the process with him.
I could not ask for a better group of guys to train with. We bring out the best in each other. The support and encouragement is out of this world.
Seeing what each of them have achieved in their 50's makes me realize that the best years are ahead of me.
At 41 years old I am absolutely fired up for what's to come in my 50's. From what I've been witnessing, there appears to be an advantage to transforming your body in your 40's and 50's. It's Prime Time Baby!
Age is not a limitation. Transforming your body in your 40's, 50's, and beyond will make a statement to the world that your best years are still ahead of you. You are like a fine bottle of wine aging to perfection.
Now it's your turn to become a role model to the young bucks. Show them what's possible. Challenge those limiting beliefs associated with age and body transformation. Raise the bar and create a new standard.
The great news is that we have a free 5 day Fat Loss Mastery email course where you'll discover the exact workout, nutrition, and lifestyle practices that my workout partners have followed to get in the best shape of their lives over 50.
Start carving out the physique you can feel proud of today!
Sculpt a Masterpiece,
Scott Tousignant