A flat butt is just as unattractive as a fat butt… there I said it! If your butt can't hold up your jeans it's time to build it up and sculpt some curves made from muscle. Developing a round, firm, and muscular butt is all part of sculpting an aesthetically pleasing physique with ideal proportions and symmetry.
If you are lagging in the butt department you need to look beyond mainstream fitness programs or gadgets that you can buy from late night infomercials and begin training like a body sculptor. It's time to bring out the Physique Artist within you, pay attention to the details, and "bust your butt" in the literal sense 😉
Here's a fantastic video montage of Kellie Hart Davis that is sure to fire you up and inspire you to whip your butt into shape!
Did you notice that Kellie wasn't lifting any "girlie" weights or busting out the Thigh Master while sculpting her "buns of steel"? Kellie lifts like a body sculptor and trains like a Physique Artist, paying close attention to the finer details… which is why I approached her with an important question about targeting specific areas of the glutes.
The glutes are a pretty large muscle and focusing on exercises that properly stimulate them can give the appearance of "Lifting your butt", especially when there is an emphasis on hitting the upper glute region.
With body sculpting, you want to make sure that you develop the entire glute, giving it the best shape possible. Lifting the butt is awesome, but it's really nice to see a developed lower glute, which shows clear separation between your butt and the back of your thighs (hamstrings).
So I asked Kellie, "In your arsenal of glute exercises, do you find that there are some that hit the lower portion of the gluteus maximus more than others?"
Kellie's response… "I actually discovered the other week that by performing Single Leg Hip Thrusts (shoulder and foot elevated) with a low foot elevation really targets the lower portion of the gluteus maximus well.
At my gym I elevated my shoulders on a bench and my foot on the window sill. This may not be an option for most, so find something that is about 6-8 inches from the ground to rest your foot on. This may simply happen by adjusting the safety bar on the power rack and resting your foot on it."
You can see Kellie performing Single Leg Hip Thrusters in the video above at the 3:43 mark. Although she is not using a bench, you can get an idea of the exercise.
Kellie also mentioned, "In addition, nothing beats a proper back extension (should be called a hip extension). When performed correctly, your lower glutes and hamstrings should fire hard and cramp up toward the end of your set. I always walk away doing several sets of knee hugs because I tax my glutes so hard."
Here's an AWESOME video from The Glute Guy Bret Contreras, demonstrating the proper way to do a back (hip) extension to work your glutes as Kellie described above….
Back Extension For The Glutes
Note: If Kellie's video at the top of the page has been disabled for your viewing, you can see Bret perform a Single Leg Hip Thrust in this video…

I may have given the impression that butt exercises are a focus for women only. This couldn't be further from the truth. Developing my glutes is just as important as any other body part. If you are into competing in bodybuilding contests, this is certainly an area that is gaining more and more attentions. From what I've heard, judges are paying close attention to well developed and striated glutes on men.
I pride myself on having a great butt. It's a feature that many women compliment me on. From what I've heard, strong thighs and a muscular butt is something that catches a woman's attention on a guys physique. At the risk of turning this into an X-rated post, it has something to do with thrusting movements. Hey, I'm just repeating what I've heard from many women on this topic… so don't shoot the messenger 😉
I will be picking Kellie and Bret's brains more on the topic of glute training in the very near future, but for now, I believe that you have some great stuff to take action on.
Remember, the ultimate goal when it comes to "Training for looks" is to sculpt a physique with ideal proportions and symmetry. A balanced physique with amazing detail that catches the attention of others.
So far we've covered the importance of sculpting your shoulders and building your butt in this series about symmetry and proportions. Next up we will be focusing on tightening up your midsection. Until then…
Sculpt a Masterpiece,
Scott Tousignant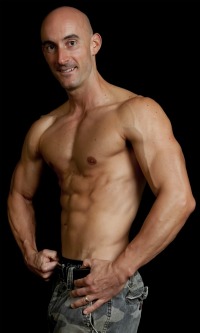 About The Author
Scott Tousignant, BHK, is a Certified Fitness Consultant with a passion for transforming fitness enthusiasts into physique artists. His most recent program, Metabolic Masterpiece guides you through the process of sculpting your body into a work of art, by applying what Scott has coined, "The A.T.T.R.A.C.T. Formula.
With his synergistic, boredom busting body sculpting workouts you will melt stubborn fat and gain muscle while skyrocketing your metabolism!