Do you know what your ideal proportions are that will make you look even more attractive? You don't have to look very far to know what they are. You can find them everywhere that you see replicas of the Classic Roman and Greek sculptures that were chiseled out centuries ago. More recently, you can find these perfect proportions by checking out pictures of the Classic Physique Artists such as Vince Gironda and his students.
John Barban, the creator of the Adonis Index and the Venus Index states, "Research done on human anatomy, classic art sculpture, and the psychology of attraction tells us that there is a specific body shape and size that people will find most attractive and pleasing to look at. People that are close to this ideal size are generally treated more favorably, because we live in a society that is driven by beauty and perfection."
So what are the ideal proportions?
It's called the Golden Ratio (1:1.618) and can be found in centuries old art work and in nature itself. The Golden Ratio for men takes into account height, waist circumference, and shoulder circumference. For women there is the additional hip circumference… think hour glass figure.
Although our workout programs vary, the Adonis Index and the Venus Index are based upon the same philosophies as the Metabolic Masterpiece Body Sculpting Program… They are based on sculpting a specific look.
…It's no wonder that at the time of my last photo shoot I was pretty damn close to the Golden Ratio that John refers to in his programs.
While mainstream fitness is blindly focused solely on burning calories with their workouts, The Adonis/Venus Index crew and myself are focused on helping you sculpt the most aesthetically pleasing physique with perfect proportions and beautiful symmetry. Oh… and the difference in caloric burn between our workouts and the hyped up mainstream programs is pretty much non-existent… and you won't run yourself into the ground either.
After running my numbers through John's Golden Ratio calculator I discovered that I needed to add a bit of muscle to my shoulders as well as trim 1/4 inch of fat off my waist. So for the next 14 weeks I went through a muscle building phase, adding an inch to my shoulders, which puts my shoulders just barely above my target. I have now begun a short fat loss phase, which will put my waist at my target. During that process I will release the last tiny bit of fat on my shoulders which will have me hitting my target and putting me at my Golden Ratio for a guy my height.
To my great pleasure (and a nice boost to my ego), I've been receiving a great deal of compliments about my shoulder development lately. It's proof that people take notice of strong and shapely shoulders.
I'm not just talking about guys here. Strong and shapely shoulders are INCREDIBLY ATTRACTIVE on women. They make you look amazing in tank tops and strapless gowns. Not to mention that they contribute to an hour glass figure.
Modern day physique artist and fitness model Vanessa Tib has sculpted some of the nicest shoulders that I've ever seen on a woman as illustrated in this photo taken by Tony OAMG Photography… and she's earned every ounce of them!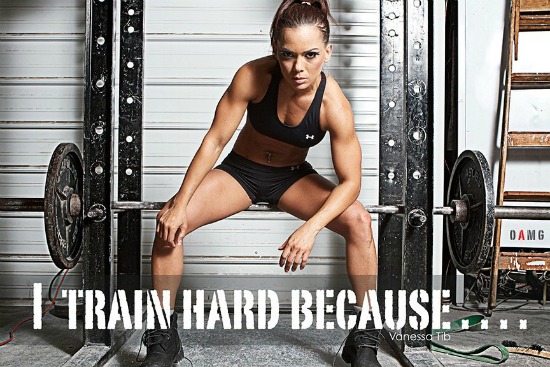 I love following Vanessa's status updates on Facebook. Her posts are very inspiring and I love the fact that she trains like a body sculptor and enjoys body part splits. Her work ethic is outstanding. If you are a female, looking for a positive role model in the fitness industry to inspire you, I recommend that you follow Vanessa on Facebook as she provides frequent daily doses of motivation.
Through mainstream fitness propaganda you may have heard that isolation exercises are a waste of time. If your goal is to not look your absolute best and bring out the finer details in your physique… then sure they are a waste of time, but for us physique artists, they are a very important tool in sculpting our body. Here's a short video of Vanessa demonstrating 1 arm cable bent over raises…

Notice the detail in her shoulders and upper back! That's some awesome body sculpting!
Here's a fantastic superset that I've performed in the Metabolic Masterpiece Body Sculpting Program to bring out the details in your shoulders…
NOTE:
I also perform the upright rows with a wider grip, which really hits the outer shoulders hard!
Of course the foundation of your shoulder development will be built through compound pressing movements such as the Military Press, Arnold Press, or standard Dumbbell Shoulder Presses (preferably using a neutral grip). Incorporating these movements played a huge role in adding size to my shoulders, while the isolation exercises brought out the finer details.
It's also important to note that dedicating an entire workout to shoulders played a tremendous role in successfully developing my shoulders. Shoulder workouts really bring out the physique artist in me because I pay so much attention to the detail by working each head of the deltoid. It's fascinating to see these muscles working in the mirror during the exercises.
This is what training for looks is all about. It's a wonderful fascination with your ability to sculpt and shape your body into a work of art. Let's face it… aside from powerlifters and athletes, the vast majority of people who begin a workout program, do so because they want to look better… they want to look hot! So if your goal is to look hot, shouldn't you train for looks?
It's time to stop viewing working out as a dreaded means of burning calories and running yourself into the ground. It time to START viewing your training as an art form that you embrace, look forward to each day, and celebrate as a journey of self growth and self discovery.
Become a physique artist and take great pride in your work!
OK, so today we focused on developing your shoulders as a means of helping you sculpt out your ideal proportions or "Golden Ratio". Next up we'll focus on the glutes for women.
Enough talk… time to sculpt!
Sculpt a Masterpiece,
Scott Tousignant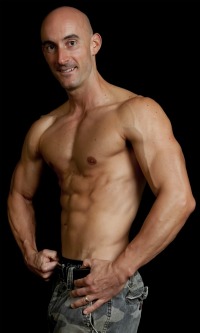 About The Author
Scott Tousignant, BHK, is a Certified Fitness Consultant with a passion for transforming fitness enthusiasts into physique artists. His most recent program, Metabolic Masterpiece guides you through the process of sculpting your body into a work of art, by applying what Scott has coined, "The A.T.T.R.A.C.T. Formula.
With his synergistic, boredom busting body sculpting workouts you will melt stubborn fat and gain muscle while skyrocketing your metabolism!