When was the last time you saw a bodybuilder who weighed less than 150 pounds on the cover of a fitness magazine?
It's likely you've never seen one. And that's unfortunate, because these are some of the smartest and hardest working bro's in the business.
They've had to fight tooth and nail for every ounce of muscle gained.
They've had to learn the tricks of the trade to maximize every bit of muscle building potential from every rep they perform.
And in spite of their lack in gravitational pull, their physiques can be equally impressive as any 200 plus pound beast.
For example, the last bodybuilding contest I competed in I placed 2nd (right) among a very competitive lightweight division. The 20 year old bro (center) who beat me ended up winning the overall title.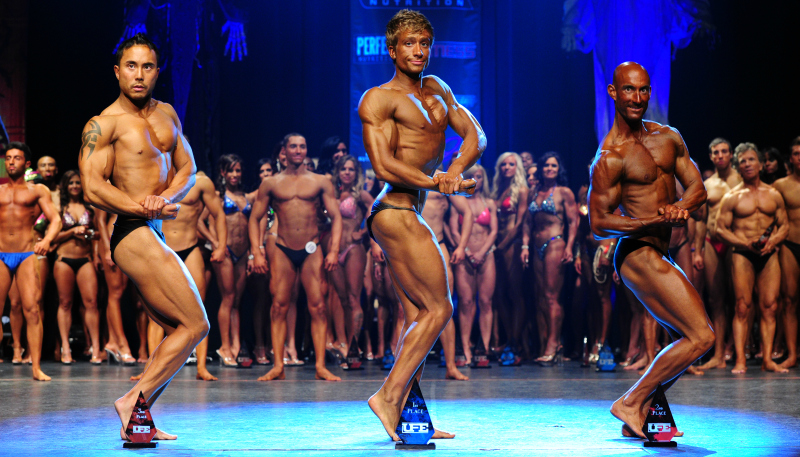 Taking down the best of every weight class in the contest, including the jacked heavyweights.
He won, because his symmetry and proportions created the illusion of a much larger and aesthetic physique.
That, along with a lat spread which seemed to come out of nowhere. Totally catching the audience and the judges by surprise.
Proud, Yet Ashamed To Be A Lightweight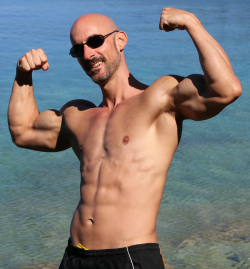 Weighing in at 145 pounds I'm proud to be a lightweight bodybuilder.
I like to think of myself as being cut and jacked.
My 17 inch arms stretch the sleeves of my shirts and I have a tough time fitting my glutes and thighs into most jeans.
And relatively speaking I'm pretty freak'n strong.
Most important, is that my physique has been a vehicle which has inspired and driven many of my fellow lightweight bro's to their destination of jacked-dom.
Yet, I partake in an industry that at times causes me to feel ashamed of my small stature.
Lightweight bodybuilders are the plus sized women
of the muscle building industry.
Lightweight bodybuilders are on the outside looking in. Hardly ever taken seriously. Rarely getting our shot at the spotlight. And frequently find ourselves being the brunt of jokes.
We're marginalized in the muscle building world and this is something that needs to be addressed as it can lead to body image issues and harmful performance enhancing drug abuse for those trying to 'fit in' while chasing an unrealistic physique goal.
But the conversation needs to be a positive one. Unlike the way the plus sized female market went about addressing their concerns. They made the mistake of attacking and talking smack about leaner women.
I have nothing but mad respect for my heavyweight jacked bro's. I understand why they receive so much positive attention. They deserve it. They've put their time under the bar and earned it. Their physiques are beyond impressive.
Like most bro's, I grew up idolizing Arnold Schwarzenegger. What isn't there to like about that mountain of muscle.
Aronld's posters covered the walls of my home gym. His confident image was a beacon, guiding me to the land of great gains. His image was the catalyst that launched me on this path of health and fitness.
But it's not just celebrity types who have me aspiring to become a more muscular version of myself. This past weekend I attended a fitness conference where you could find jacked bro's of all shapes and sizes.
Admittedly, it was the bigger dudes who stood out in the crowd. While hanging out with Bryan Krahn and Jay Ashman I definitely caught myself admiring the mass they've accumulated from decades of lifting.
You can see Bryan's rear delts popping through his shirt from across the room. His massive and vascular quads captured and held my attention as he cranked out a high rep set of leg presses.
Jay's traps and thick torso had me in awe. He's a freak'n tank who looks ready to steamroll anything or anyone that gets between him and his goals.
Note: These are also two of the nicest guys you could meet in the fitness industry.
Jacked bro's got it going on. I'm inspired by them. We share the same passion.
Yet on many levels we just can't relate to each other.
These guys will never understand the emotional anguish that floods your mind and consumes your thoughts when you see your scale weight dip below 150 pounds during a cutting phase.
Thanks to stereotypes, I can at times feel less of a man at this weight. I may even experience moments when I question my abilities as a muscle building coach, simply because of a number displayed on the scale.
This thought process is utter nonsense, when I consider the knowledge and experience I've accumulated during the past two decades along with the countless clients whom I've guided in building impressive physiques.
The seeds for these thoughts are planted in daily interactions. During a dinner conversation I mentioned that I only weighed 145 pounds. Jay jokingly said, "I weighed that when I started high school."
He meant no harm by the comment and said so in a jokingly manner. He actually had me in tears from laughter at one point.
But still, it's innocent conversations like these that illustrate the stigmatism us lightweight bro's experience on a regular basis.
Fortunately, many of my heavyweight bro's are also complimentary about the physique I've built. They often inform me that I look at least 20 pounds heavier than what the scale reveals.
But unfortunately, this is not always the case.
The Breeding Ground For Discrimination
The marginalization of us lightweight bro's begins at the top, with men in the position of authority.
For example, in a recent article Mark Rippetoe, a well known strength coach had this to say about men and bodyweight;
Many of us believe that a grown man weighs 200 pounds. He just does. Bigger and stronger is better than being underweight – for your health, your athletic performance in the vast majority of sports, and your longevity, as well as your appearance. I know that many of you will regard this perception as petty and superficial. You will say that intellectual pursuits are the true crowning glory of humanity, and that brutish size and strength belongs in the past, with animal skins, stone tools, and sloping foreheads.

If you say this, we will beat the hell out of you.
Now, I've learned a thing or two from Mark's teachings over the years. But this is just a ridiculous statement that serves no real positive purpose.
These types of comments alienate a large portion of the marketplace and ignite discrimination. Adding fuelling for the cronies who follow him and go on spewing their derogatory comments in bodybuilding forums, saying things like this;

This is nothing but plain ignorance with zero consideration for genetic predisposition.
According to this logic, bodybuilding legends Frank Zane and Lee Labrada wouldn't be considered men.
As ludicrous as it may sound, guys like George St. Pierre who kick ass for a living are not considered men by this standard. That's just asinine.
Action heroes, such as Sylvester Stallone and Jean Claude Van Damme whom I idolized in the 80's and 90's would not be considered men.
Interesting enough, during the Rambo series, Stallone was pressured by the movie industry to get bigger. He then resorted to taking HGH and testosterone in order to live up to the industry ideals.
And that unfortunately is what this kind of ignorant discrimination leads to.
Lightweight bro's who have not been genetically blessed, feeling the pressure to take performance enhancing drugs to 'fit in'. And even still, many of them will not hit the 200 pound mark with the help of these illegal substances.
I ask you, is the number displayed on the scale truly attached to our manhood?
At 145 pounds body weight I can trap bar deadlift 430 pounds for 3 reps. Not too shabby for a lightweight. Some may even consider it impressive.
Especially when you realize that simply adding 5 pounds to the bar would have me deadlifting three times my bodyweight for reps.
I sure as hell don't know many 200 plus pound bro's who can lift triple their bodyweight for reps. And I'm still considered less of a man because of my scale weight?
And when you take into consideration that I'm a bro who only lifts in the lower rep range 10-15% of the time, it's even more impressive. It's not like strength training or powerlifting is my forte.
In my opinion, seeing myself lift that heavy ass shit off the ground for 3 reps is pretty freak'n manly. It's empowering.
When you look at the big picture my progress is no less impressive than my 200 plus pound counterparts.
The Process Of Adding 50 Pounds Of Muscle
To A Small Frame
At 14 years old, the moment I first touched a dumbbell, I weighed less than 100 pounds at 5 feet tall. That year I grew six and a half inches, reaching my final height of 5' 6.5" tall.
I didn't gain much weight that year, but during the next 10 years while lifting heavy shit consistently and eating everything in sight, I built my physique up to 123 pounds.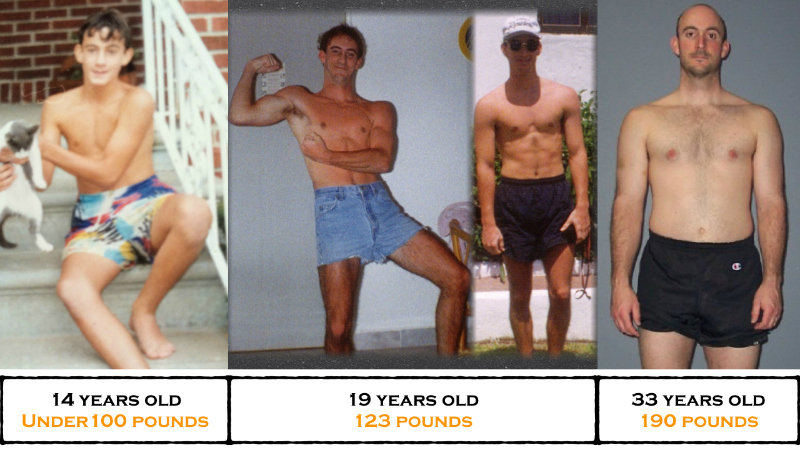 The next decade I would continue the upward trend on the scale, forcing food down my throat and eventually tipping the scale at 190 pounds.
Ironically, I felt less of a man at 190 pounds than I did at 123 pounds. I was embarrassed to take my shirt off. I lost my breath tying my shoes. Even worse, I looked average.
At 35 years old I had enough of looking soft and feeling miserable. After a six month cutting phase I ended up weighing 137 pounds ripped.
The good news is that shedding 60 pounds of unwanted fat revealed that I had added 14 pounds of muscle to my frame from my mid 20's to mid 30's.
Since then I have added another 8 pounds of muscle, bringing my body weight up to 145 pounds. Looking ripped and muscular.

So in the big picture I've added approximately 50 pounds to my frame. That's pretty damn good by any standard.
Although I've never graced the cover of a fitness magazine, in spite of my rugged good looks 😉 I've been fortunate enough to be featured in a full page spread in IronMan Magazine.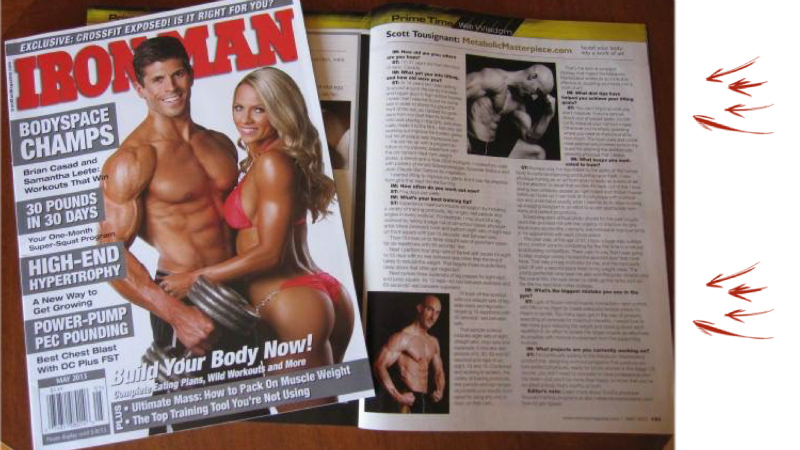 I certainly don't feel that my physique looks out of place in this magazine.
Without knowing our stats would you easily come to the conclusion that the male cover model, Brian Casad has 60 pounds on me?
Does he honestly appear to be more of a man weighing in at 205 pounds compared to my 145 pounds?
It Doesn't Have To Be David Vs Goliath
Whether you're a lightweight or heavyweight bodybuilder we share the same passion.
We train with the same 'eye of the tiger' focus and intensity.
We have an appreciation for the sculpted aesthetic physique.
We have a strong desire for continuous growth while exploring our full genetic potential.
The only thing that differentiates us is the number on the scale.
Now, as much as I admire and appreciate seeing a 200 plus pound muscular physique in the fitness magazines, I'd really like to see more physiques that I can relate to.
Physiques within my reach that I can aspire to achieve.
I'd appreciate the opportunity to discover role models in the lightweight and middleweight classes. Because up until now they've been held out of the spotlight.
The muscle building industry is lacking representation of all weight classes. I say now is the time to make a change. A time to become inclusive rather than exclusive.
I don't want to see a separate media stream geared toward the lightweight bodybuilder. We need to unite and celebrate this lifestyle together.
Are you with me?
Sculpt a Masterpiece,
Scott Tousignant