This week marked the beginning of a 4-6 week mini cut for myself.
The approach I'm taking is exactly how I instruct the majority of my clients — Following the guidelines laid out in this article Your Diet Plan To Sculpt a Ripped and Jacked Physique.
My goal and approach for this 4-6 week mini-cut is to drop 1.5 pounds per week.
Note: There will be a larger drop this first week, which is always expected when simply due to the reduction of food volume in your digestive system as you shift from a surplus to a deficit. Also I pigged out over the weekend which caused an abnormal spike in weight.
Based on the guidelines from the article above, these are my calorie and macro targets to achieve this weekly goal…
2000 calories
150 grams protein
235 grams carbs
50 grams fat

My main focus is hitting the caloric and protein targets as close as possible while staying in the ballpark for carbs and fat.
I'll take refeeds as needed (up to 2500 calories), but plan to keep them to a minimum.
After all… it's only 4-6 weeks. I can do anything for 4-6 weeks. I'd rather suffer for the short term and get this over quickly, then drag it on for longer than it needs to be.
I'm planning on keeping alcohol consumption to a minimum throughout this mini-cut as well. I certainly won't eliminate it, but I'll keep a tight lid on it.

To give you an idea of what a full day of eating would look like for me here's some pics from my Instagram stories that I shared the other day…
Full Day Of Eating
I began my day with 2 cups of coffee with a bit of almond milk. Along with 300mg magnesium, 2000iu vitamin D3, and 1800mg fish oil.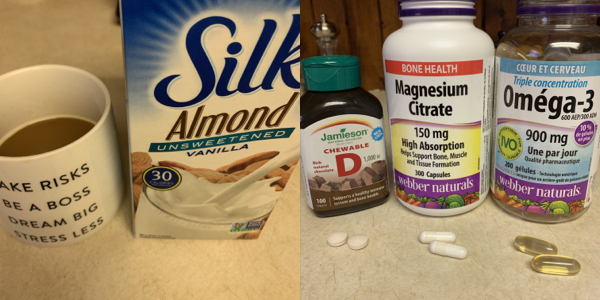 NOTE: This week I switched to taking the magnesium at night as it's supposed to have a better impact on sleep than taking it in the morning.
After a 30 minute walk with Chief I had a cup of hot chocolate.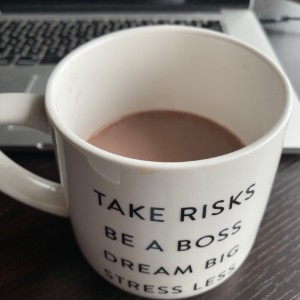 Meal 1
First meal was a shake; 1 cup kefir, 1 cup unsweetened almond milk, 3 cups spinach, 1/2 scoop whey, 1 banana.
Meal 2
Second meal was 260g plain Greek yogurt, 140g frozen fruit, cinnamon and 1 red pepper.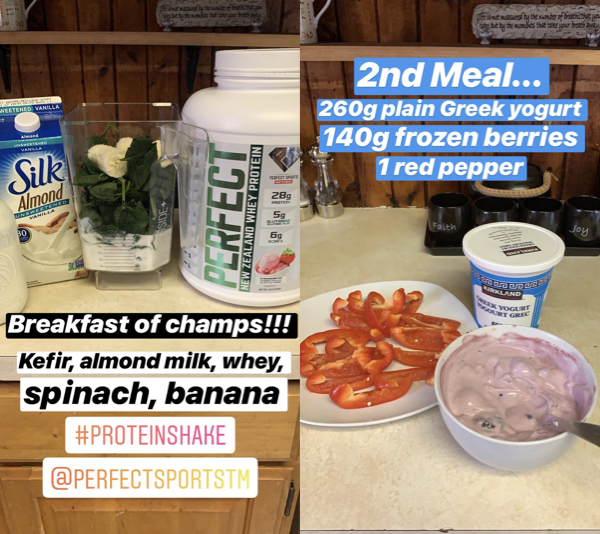 Meal 3
Third meal I had the leftover potato crust quiche. (I'm still perfecting the recipe).
Snack
Snack Cranberry almond thins, which are a delicious 100 calorie treat.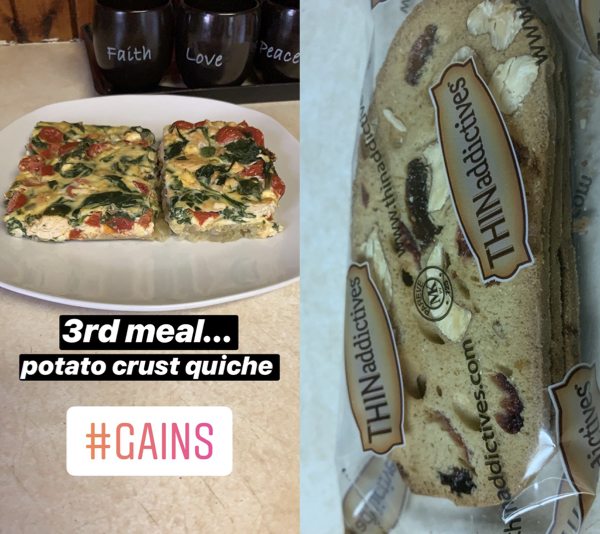 Pre-Workout and During Workout Drinks
Drank Bull Dose Rush pre-workout.
Back and chest workout from the Jacked After 40 Club.

During the workout I have 25g Vitargo and 25g whey. This is to improve workout performance, reduce cortisol, and keep my body in an anabolic state.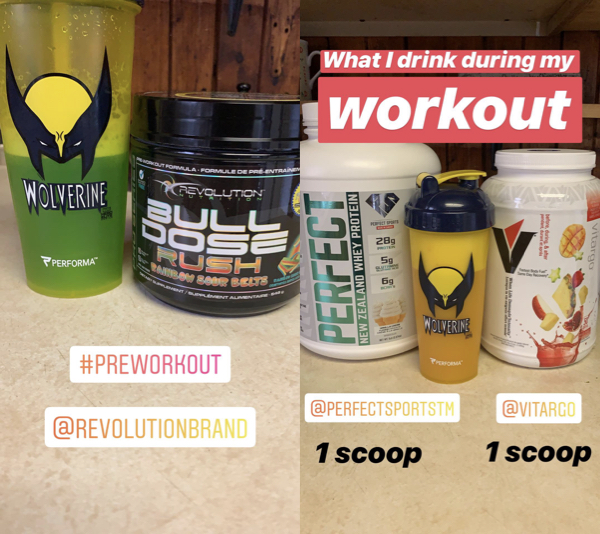 Post Workout Drink
Post workout I have 4g creatine monohydrate in warm water.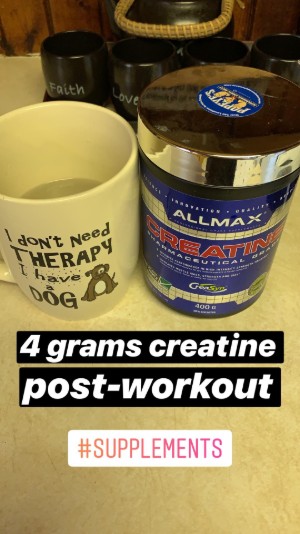 Meal 4
Forth meal was a lightly pan seared tuna steak, 45g (dry) rice, and 3 cups sweet kale salad.
Brought my dog for a 20 minute walk.
Snack
Before bed I had 50g beef jerky.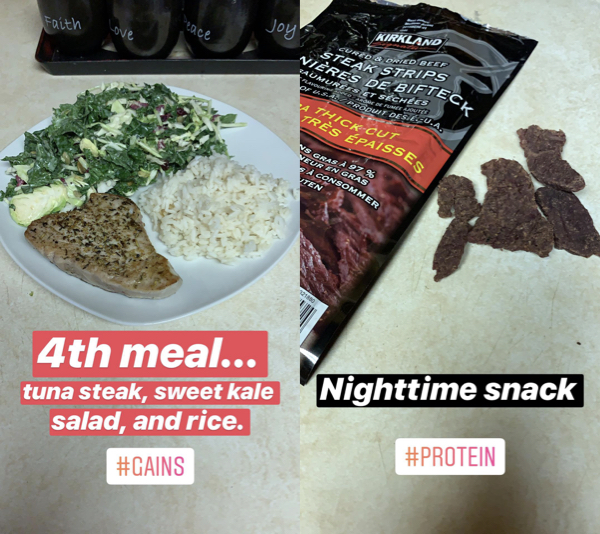 At the end of the day, this was my approximate consumption…

1925 calories
155 grams protein
200 grams carbs
54 grams fat
Pretty much spot on for my calorie and macro targets!
So basically I'm consuming 4 meals per day, a snack, and a workout drink. This will pretty much be the standard. Although I'm sure there will be some days when I only have 3 meals when one is larger in size.
Most days I'll be consuming the coffee, hot chocolate, kefir shake, and Greek yogurt. My nighttime snack will almost always be beef jerky (usually combined with smoked salmon).
The consistency of these meals and snacks makes nutrition fairly mindless and effortless. It also makes tracking easier.
I'll get my variety from the other two meals. And I tend to make enough for leftovers the following day, which also makes sticking to the nutrition plan easier, because less prep time is involved.

I will enjoy my favourite foods when I desire them. I'll just make them fit into my total daily intake.
Conclusion
As you can see… there's no gimmicks, no weird tricks, and nothing fad about this approach.
It's simple mastery of the basics. A plan that makes it easier to stay consistent. A plan that doesn't deviate much from my normal way of eating. The only difference is the quantity of what I eat.
The diet isn't overly restrictive, so I'm not left feeling like I'm starving at the end of the day and want to chew my arm off. I don't need that added stress in my life.
As you can also see, I eat like a normal freak'n human. Foods meals, and snacks that most would enjoy.
I hope you've found value in this peek into what a typical day of eating looks for me.
If you have any comments, thoughts, or feedback I'd love to hear from you.
Enjoy your day and live life to the fullest.
Sculpt a Masterpiece,
Coach Scott Tousignant
PS If you found this helpful and want to see more, I encourage you to check out the Jacked After 40 Club where I share the meals I eat ever day along with the workouts I follow each month and the rationale behind them.