Brad Pilon steps into the lime light as our guest expert in Episode 02 of the Physique Frontier podcast.
Brad is widely known for his approach to Intermittent Fasting and his book Eat Stop Eat.
But as we discus in this podcast, fasting is just one of the tools Brad uses in his ongoing body transformation.
What he is most passionate about is shaping and sculpting the body.
…As you can see in his photo, he's done one heck of a job at that!
Brad is part of the team over at Adonis Index and Venus Index, which focus on sculpting an aesthetically pleasing physique with ideal proportions, balance, and symmetry.
Our views on Physique Training are very much in alignment and I'm constantly gaining valuable insights from Brad's interpretation of the latest research in the fitness industry.
Here are a few of the topics we cover in this installment of Physique Frontier…

The 3 most important measurement tools to accurately monitor and track your progress.

Big aha moments and insights Brad gained from 2 very important self experiments he did this year.

What the research says about shaping a specific area of a muscle

Intermittent Fasting as a 'tool'… and a bit about my self experiment with IF.

The new bodybuilding trend and what Brad hopes to see from it.
This is an information packed discussion I'm certain you will enjoy!
Download the mp3 here ==> Episode 02 with Brad Pilon
Sculpt a Masterpiece,
Scott Tousignant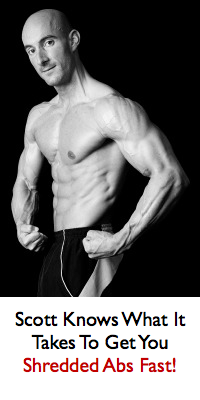 About The Author
Scott Tousignant is a Certified Fitness Consultant and Elite Natural Bodybuilder with the UFE.
Scott specializes in helping regular guys get ripped abs insanely fast. With his careful attention to the finer details, you'll carve out a rock hard and jacked physique in no time flat!
When Scott needs to urgently strip away stubborn sacks of fat for a photo shoot or bodybuilding contest, he turns to his time-tested proven system… Elite Physique.
Now you too, can follow his easy-to-follow system to finally uncover your ripped abs and chiseled body! Get the full details by visiting Elite Physique today!