Much like in sports when the star athlete makes a bad shot or has a bad game, they learn from the experience and quickly put it behind them (forget about it).

When this happens you'll often hear the announcer refer to it as the athlete having selective amnesia.
Well yesterday, I "blew my diet" and I have a feeling you will be able to relate to my experience.
It was Mother's Day. A day to enjoy great company while celebrating the amazing mother's in our lives…
…Not a day to obsess and stress over tracking every calorie that went into my mouth.
After 13 days of consistently hitting the caloric target I set for myself during this four to six week mini-cut I was more than happy to relax on my diet with the intent to enjoy all of the food without stuffing myself silly.
The day began with a light, high protein breakfast at home.
At our first stop of the day I enjoyed a delicious egg salad wrap, a yummy turkey bacon wrap, a Greek pasta salad, veggies, a butter pecan tart, and two chocolate chip cookies.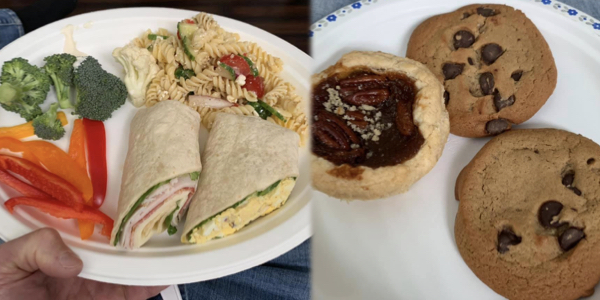 I felt full, but not stuffed by any means. And not a single fuck was given about the caloric content of any of the foods. I was too busy laughing and sharing in some great conversations to worry about my macros.
The next stop I enjoyed two rum and Coke's along with more laughter and fun discussions.
On the way home I picked up an order from Buffalo Wild Wing's for my son and I to enjoy as we watched game 7 of the Toronto Raptors series with the 76ers.
I wasn't very hungry after the meal I ate earlier, so I only had 6 boneless wings along with some fries.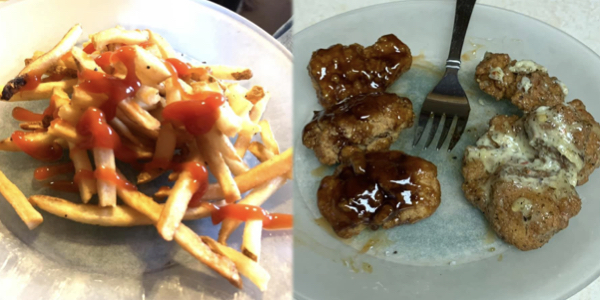 All was good. I felt satisfied.
Then for some reason I went to the cupboard and grabbed a bag of Sun Chips. The first handful was tasty and enjoyable. The second handful was pretty good too. But I was starting to feel a bit too full and should have stopped in that moment.
And then it happened… The "awww fuck it" moment when I thought "why not have an all out cheat day?"
As I proceeded to eat the rest of the bag it was no longer about enjoyment… it was all about shovelling as much food in my mouth as I possibly could.
I then proceeded to eat a Kit-Kat chunk chocolate bar. Again, the first bite tasted great, but each bite afterwards was not enjoyable at all. At this point it felt uncomfortable to shove any more food down my throat. Yet, I continued to eat the remainder of the chocolate bar even though I wasn't enjoying it and I was feeling stuffed.
I then ate a Drumstick ice cream cone. Honestly, I don't think I even tasted it. I even thought to myself, "Why am I eating this? You're beyond full and this doesn't even taste good anymore."
All I can think of is that it's that inner caveman rearing it's ugly head along with the feast or famine wiring that's engrained in us.
Logically I know I can go grab another bag of chips at any moment. But my inner caveman who views the past 13 days in a deficit as famine was jumping at the opportunity to feast, before famine strikes again.
Now here's the thing…
Yes, I felt uncomfortably stuffed. But what I didn't feel was guilt. I didn't beat myself up. I didn't dwell on it over and over again.
I simply moved on.
Just like the star player having selective amnesia after a bad play or game, I had selective amnesia about "blowing my diet".
There was however, a brief moment while struggling to get comfortable in bed and experiencing some acid reflux that I thought to myself, "Next time you're about to overindulge, remind yourself of how this feels so you stop yourself before you get out of hand again."
That was the lesson learned. A positive that I will take away from the experience and use it to improve in the future.
The following day there was no punishment cardio and no starving myself to make up the difference. I simply got right back to the plan and doing what had been working so well the previous 13 days.
It's as if that binge never happened.
Life's too short to waste precious seconds dwelling on past experiences. I can't change it, so why give it any more energy.
Instead I choose to direct my energy towards giving the very best of myself to this moment.
After all, one evening of "blowing my diet" is not going to make or break my transformation. It's a small blip in the journey.
If anything, it's fired me up even more. Plus, I put the extra calories to good use as I absolutely dominated today's leg workout.
In closing, remember… every challenge is an opportunity to grow.
Choose growth… always!
Sculpt a Masterpiece,
Coach Scott Tousignant
www.JackedAfter40.com