Make no mistake, this is not your average, watered down approach to getting jacked after 40. Far from it.
This is a workout structure that has men and women like you walking out of the gym feeling invigorated, pumped, empowered, and ALIVE!
It's built on advanced bodybuilding science that's designed to work specifically for an aging physique that has spent a significant amount of time under the bar…
…A physique that's faced its years of wear and tear. Yet with the proper approach has decades of growth and improvement ahead.
So without delay, let's dive into this joint friendly, yet hardcore training system that boosts your ability to pack on muscle while stripping away stubborn fat.
The 'Punish and Prod' Workout Split Routine
Advances in bodybuilding science have shown that training a muscle group twice per week is optimal for men and women over 40 with a desire to sculpt a ripped and muscular physique.
But how you workout the muscle each of those times will have a significant impact on how your body responds.
The traditional approach that you'll see with most workout plans will have you evenly distribute the training volume (number of sets) between both workouts, which can beat you down rather than build you up if you're not careful.
An effective workout plan to get you jacked after 40 is a delicate balancing act of managing muscle damage and recovery.
This is where the 'punish and prod' approach comes into play.
You'll 'punish' the muscle group with a quality, efficient, and focused high volume workout early in the week. This will provide your muscles with an adequate amount of volume (work) to trigger a significant growth response.
You'll then 'prod' the muscle group with a low volume workout later in the week.
The purpose of this second workout is two-fold;
1) To speed recovery.
2) To signal a growth response and prod your muscles beyond their previous state to the point of supercompensation, which is where you experience growth and progress.
Let's take an in-depth look at each of these workouts…
'Punish' Workout
The secret behind what makes this workout is so incredibly effective for men and women over 40 is how it's structured. Easing you into the workout. Avoiding grinding reps. And safely pushing beyond momentary muscular failure at the appropriate time during the workout.
The Activation Move
You'll begin your workout with a joint friendly isolation exercise performed in the moderate to high rep range. The purpose here is to activate your mind-muscle connection while driving nutrient rich blood to the target muscle.
For example, beginning with a leg extension when training legs is a great way to ease yourself into the workout.
By starting with an isolation exercise like this, you can really focus on feeling the target muscle contract and stretch. This heightened sense of awareness will set the tone for your workout and carry over to all other exercises.
And if you want to take that mind-muscle connection to the next level you can add a short squeeze at the peak of each contraction as demonstrated in this video by Rick, who's over 50 and in the best shape of his life…
Big Lift #1
Now that your target muscle has been activated, it's time for a couple big compound lifts which are ideal for developing maximum size and strength. An exercise such as the incline barbell bench press for example.
You'll perform 6-8 reps with this lift, but I don't want to see you grinding out any reps here.
When you're over 40 you need to be VERY SELECTIVE as to when you push an exercise to failure. Ideally, you should leave a rep or two in the tank with your first couple sets. Save your best set for last.
Quality form and technique is paramount with this lift. You should feel the tension in the target muscle… not the joint. Having already performed the primer movement will prove helpful with your mind-muscle connection here.
Big Lift #2
You'll perform 8-12 reps with this lift. Here you can train closer to momentary muscular failure, while avoiding any forced reps.
Note: Do NOT perform any exercise that hurts when it comes to these big lifts. If barbell movements bother you, there are plenty of other alternative compound movements to choose from.
The Pump Intensifier
The purpose of this lift is to take you safely beyond your comfort zone to the point of momentary muscular failure and even beyond it for a maximum pump.
This is where we get to have some fun with advanced muscle building tactics.
For example; When you complete the final rep of the last set of an exercise you could add an extended rest-pause.
Simply rest 5-10 seconds and perform as many more reps as you can. Rest another 5-10 seconds and perform as many more reps as you can. Keep going until you can barely squeeze out a single rep with proper form.
Taking that short 5-10 second rest allows you to safely push beyond the point of momentary muscular failure. It's a fun technique for getting more work done in just a little bit of time.
Here's a demonstration…
Another fun set extending technique is the mechanical advantage superset where you first perform the mechanically weaker lift in the superset to momentary muscular failure. Then without rest and without changing the weight you will perform the mechanically stronger lift.
For example; After reaching the point of momentary muscular failure with the cable fly, instead of resting and waiting to do another set, you could immediately perform the cable press. Because you are mechanically stronger with the cable press, you are able to continue working your chest muscles.
Here's a demonstration…
Another way you could perform a mechanical advantage superset is after reaching the point of momentary muscular failure with the seated hammer curl where you lift both dumbbells at the same time… you could extend the set by standing up and alternating arms.
Here's a demonstration…
A more common approach for extending a set is something that the best bodybuilders have been doing for decades, because it's so darn effective. And that is triple dropsets.
After reaching the point of momentary muscular failure, you simply reduce the weight and keep going, reduce the weight and crank out as many more reps as possible, reduce the weight one more time and completely exhaust the target muscle.
Here's a video demonstration…
I could share several more examples of advanced set extending techniques, but you get the idea.
Compared to the common approach of having a spotter help you awkwardly force out reps and risking injury, the above set extending techniques allow you to intelligently and safely push beyond failure. Experiencing a hyper pump while causing significant growth inducing stress.
The above advanced muscle building tactics are also time efficient and work wonders for fat loss while carving out the chiseled details of your physique.
The 'Prod' Workout
If you were to repeat the 'punish' workout twice in one week it would be way too much volume and your muscles will never have a chance to fully recover.
This second workout should NOT fatigue your Central Nervous System (CNS) or place too much demand on your energy reserves.
The 'prod' workout is short, sweet, and uses moderate to high rep sets to trigger the growth signal without causing a lot of muscle damage.
Recent research has revealed that light weight high rep sets are just as effective for muscle growth as heavier low-moderate reps. This is great news for us "experienced" lifters, because lighter weight and higher reps is very easy on your joints.
With this 'prod' workout you only need to perform one high rep exercise. Two at the absolute most.
If you're sticking with one exercise you can even perform an advanced muscle building tactic such as a 100 rep set for the target muscle as demonstrated in this video…
At the end of this workout you'll have a nice pump going. You'll feel fresh and energized.
When you combine the rapid recovery and additional growth signal from this 'prod' workout, it's like you're hitting the nitro boost on your fat loss and muscle gains!
Maximum Efficiency and Empowerment
What I've discovered through years of coaching experience is that it's best to include both a 'punish' and a 'prod' component to each workout.
For example, when training legs twice per week you would punish the hamstrings and prod the quads the first workout and do the reverse the second workout.
1) It's way more time efficient. Allowing you to stay mentally engaged and focused throughout the entire workout.
2) You walk out of each workout feeling a sense of accomplishment. As nice as it is to perform a 'prod' workout on its own and walk out of the gym with a nice little pump and feeling 'fresh'… there's something about the 'punish' workouts that make you feel empowered.
What's Next
Now you could take what we've shared with you in this article and create your own personal workout plan.
But I want to make things even easier for you by eliminating all of the guesswork.
I want to provide you with 100% clarity so you reap the full benefits from this hardcore and joint friendly for working out over 40.
Which is why I created the Jacked After 40 Club for men and women just like you, who want to live the prime of their lives with confidence, vitality, ripped abs, and rock solid muscle!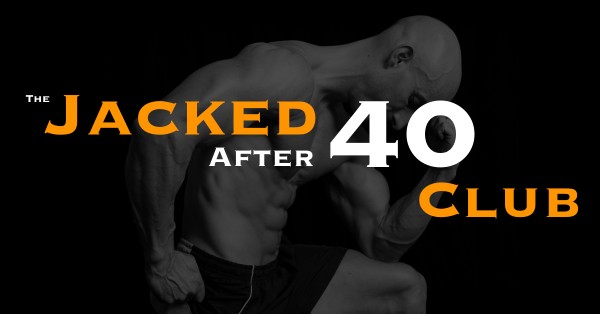 Join in on the fun and sculpt your best body ever, while living life to the fullest!