As with resistance training… I take an evidence based approach to nutrition. Sure I'll take some advice from my fellow bro's from time to time… but my nutritional foundation is built on science.
The diet industry is plagued by dogma, misleading claims, and flat out bull shit…
…Which is why I found it incredibly refreshing to see my colleagues Eric Helms, Alan Aragon, and Peter Fitschen provide detailed nutrition guidelines based on their review on a wide body of fat loss research.
I highly recommend you read this absolutely incredible, free, open source, research review paper called…
Evidence-Based Recommendations For Natural Bodybuilding Contest Preparation: Nutrition and Supplementation
Although the paper focuses on bodybuilding contest prep… I believe the advice is VERY applicable to anyone going through a cutting phase… especially if you are already fairly lean and going for six pack abs.
It's a solid… ridiculously in depth read. Be prepared to set aside an hour to really soak up the evidence based material.
I share my thoughts and break down the research in a video here…
The recommendations and guidelines shared in Eric, Alan, and Peter's research review are spot on with the approach I am taking during my current cutting phase… and producing exceptional results.
The #1 recommendation… take a slow and steady (gradual) approach to fat loss…
…and I couldn't agree more!
Here's a fantastic info graphic created by Aaron Isaacs… which summarizes the key highlights from the research review paper…

Take your time soaking up all this evidence based nutrition knowledge and be sure to share your thoughts and feedback… in addition to any aha moments.
Sculpt a Masterpiece,
Scott Tousignant
About The Author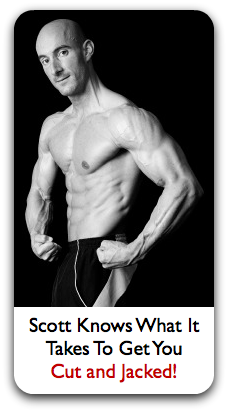 Scott Tousignant, BHK is a Physique Coach and Elite Natural Bodybuilder with the UFE.
Scott specializes in helping regular men and women sculpt their body into a chiseled work of art.
Viewing training as an art form and your body as a sculpture is a simple shift in mindset that brings out the beauty in your ongoing body transformation.
The art of molding and chiseling an aesthetically pleasing physique with spectacular symmetry, proportions, and carved out detail is one of life's most rewarding and fulfilling experiences…
…It's an opportunity for self growth and self discovery that will impact every area of your life.
Learn more about Scott's physique-focused training programs:
AMPlify Aesthetic Muscle Gains and Strip Away Stubborn Sacks Of Fat with AMP – Aesthetic Muscle Plan
Get a taste of Scott's hardcore physique training programs with Physique Phreak
More Places For Us To Connect…
On YouTube
On Facebook
On Instagram
On MyFitnessPal
On Pinterest