When you're over 40 and hitting the weights hard, you're bound to deal with injuries or little 'niggles' from time to time. Some of which will interfere with your workouts.
The purpose of this article is to show you how you can work around those injuries and come out ahead… looking and feeling better than ever. There's even a free two month workout plan included below, which will provide you with greater clarity and direction for turning what could be a negative situation into a positive one.
The crazy thing with injuries, as you may have experienced, is that in many cases the incident triggering it won't even happen in the gym. For example, you may sneeze and throw your back out.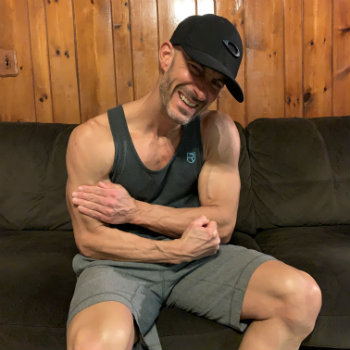 Or in my recent case, waking up to find your shoulder all knotted up from sleeping on it weird.
Initially I tried to work through the discomfort in hopes that it would soon go away. And when it didn't, I had a registered massage therapist try to work the knots out.
The massage was helpful, but when I trained upper body the following day it aggravated the muscle and set me back again. This was heartbreaking, because I knew if I continued training my upper body it was highly unlikely that my shoulder would return back to normal.
So, I made the difficult decision to avoid training upper body for an entire month and do everything it takes to mend my shoulder. This includes daily stretching, mobility exercises, self massage using a lacrosse ball, and a weekly massage from the registered therapist.
But most important — I chose to view this as an opportunity rather than a setback or challenge.
There would be no better time then RIGHT NOW to inject a leg specialization phase into my training. Ramping up my leg workouts — hitting them harder and more frequently.
Theoretically my legs should be able to handle this increased workload better and recover faster, because they won't be fighting over resources (eg; fuel to repair and grow) with other body parts.
PAUSE: I want you to take a moment to really allow this mindset shift to sink in.
Specialization training is all about paying more attention to one body part (or up to 3 if some are smaller muscle groups). You work the specialized muscle frequently and with more total volume for the week. The rest of the body on the other hand receives less attention with reduced training volume. Stimulating them just enough to maintain the muscle mass.
Specialized training is exciting and fun! You don't mind reducing how much you train the non-specialized body parts, because it serves a purpose. It's all for the greater good. It's a POSITIVE EXPERIENCE.
Yet, when you're forced to cut back on how much you train a certain body part due to an injury or 'niggle', it's easy to view it as a NEGATIVE EXPERIENCE. To focus all of your attention on the problem, rather than opportunity.
How crazy is that??? The training structure could be the same, but how you approach the experience can have a dramatic impact on your outcome.
When you're focused on the problem it's easy to feel down. And when you feel down, how do you think it's going to effect your effort in the gym? It's gonna suck isn't it? Even for the body parts that aren't injured.
Attitude is everything!
And when I chose to view the knots in my shoulder as an opportunity, it opened the flood gates for the best leg training I've ever experienced. It brought a new level of excitement to my training. It's a whole new adventure that I can learn from.
Most important, it keeps me focused on the long game. At 43 years young, I have decades of lifting and growth ahead of me. This approach is all about training smarter.
The benefits of this training phase extend beyond the present moment;
1) It will give my shoulder time to fully recover so I don't have to deal with a chronic and nagging issue that interferes with the enjoyment of my training for the rest of my life.
2) While accelerating the growth of my legs, this approach will resensitize my upper body muscles, while making them more responsive to training when I get back at 'em.
And it's not like my upper body is shrinking from the lack of training…
By now you're probably wondering how I structured my workout plan. So here it is for you to download…
The Physique Artist's 8-week Leg Specialization Workout Plan
It's a 6 Day Split that looks like this;
Weeks 1-4
Monday: Abs, Calves, and Stairclimbing
Tuesday: Legs and Bike Intervals
Wednesday: Abs, Calves, and Stairclimbing
Thursday: Legs and Bike Intervals
Friday: Abs, Calves, and Stairclimbing
Saturday: Legs and Bike Intervals
Sunday: Off
After avoiding upper body work for 4 weeks my shoulder was feeling much improved, so I added three sets of machine fly's and three sets of chest supported t-bar rows to the abs and calves workouts. I chose those two exercises because they don't aggravate my shoulder.
Weeks 5-8
Monday: Abs, Calves, Chest, Back and Stairclimbing
Tuesday: Legs and Bike Intervals
Wednesday: Abs, Calves, Chest, Back and Stairclimbing
Thursday: Legs and Bike Intervals
Friday: Abs, Calves, Chest, Back and Stairclimbing
Saturday: Legs and Bike Intervals
Sunday: Off
NOTE: The abs and calves workouts are pretty freak'n awesome and worth checking out on their own 😉
In the past when training a body part three times per week I've spread the volume out evenly. This time I took a different approach.
The first leg workout is the more challenging one of the three. You're looking to cause a fair amount of muscle damage during this session.
The second leg workout is nice and easy. The purpose here is to simply stimulate the muscles. Spiking muscle protein synthesis while speeding up the recovery process.
The third leg workout is moderately challenge. The goal here is to cause a fair amount of muscle damage, but not too much that can't recover from before the next workout.
Again, it's important to note that theoretically you should be able to recover faster from these leg workouts, because your body won't have to deal with much demand from the all the other body parts.
And now for a little insight into the design of the plan…
I chose this 6 day split, because I enjoy being in the gym often. I could have easily added the abs and calves exercises to the end of the leg workouts and turned this into a 3 day split, but I found a few benefits to breaking it up like this.
1) It was good for my mindset to be in the gym often. I felt a sense of accomplishment every day and it kept my spirits up.
2) When training abs and calves on their own I brought more focus and energy to every set. This is a much different experience compared to when I throw abs and calves and the end of a workout when I'm feeling spent.
3) It kept the workouts quick, which made it easier to wrap my head around doing cardio after the workout.
And speaking of cardio, it's something that I haven't done in ages. I typically just take my dog for a brisk walk every day, which has countless benefits for me. But again, I wanted to maximize this opportunity to improve myself in multiple ways.
I chose stairclimbing because I find it really works my calves and glutes. In essence, it was a finisher exercise for my calves. But, there's also heart health benefits that come from the activity as well.
I chose the bike intervals, because it's an incredible finisher at the end of a leg workout. The vascularity of my thighs has been off the charts since working this into my training for the past 5 weeks.
How would I structure the plan if I wasn't injured?
The three leg workouts would remain the same, except I'd do calves on this day instead of with the abs workout.
With the abs workout I would add 3-4 sets of chest, back, shoulders, biceps, and triceps.
Now if you don't want to be in the gym 6 days per week there are countless options for you to work with. Too many to list here. So if you're curious, simply hit me up with an email to scott@metabolicmasterpiece.com
One thing would remain constant though… training the specialized muscle three times per week.
Conclusion
The big takeaway from all of this is the stay positive when dealing with an injury. If you sit back and evaluate the situation, you're sure to find a silver lining.
I'm a firm believer in the saying that "Everything happens for a reason". I believe this little 'niggle' that I've been dealing with has provided me with the opportunity to grow. Not just physically, but intellectually and emotionally as well.
Enjoy The Physique Artist's 8-week Leg Specialization Workout Plan and don't be shy. Hit me up and share experiences from your transformation journey. We're in this together and learning from each other along the way.
Sculpt a Masterpiece,
Scott Tousignant